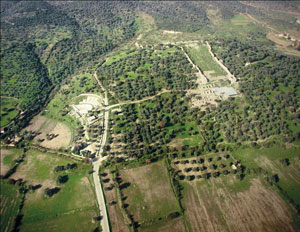 In his writings, Strabo explains that the city of Metropolis is 120 stadia from Ephesus – and indeed it lies about 35km north of Ephesus on the western coast of Turkey. Though much less well known than Ephesus, Metropolis deserves a place on any discerning visitor's itinerary.
Lying on a shallow hill, its ruins stretch out onto the eastern slope of the hill. Though we find occupation evidence dating back to the Iron Age, the city of Metropolis became most powerful in Hellenistic and Roman times.
So what exactly remains of the city and what have been our latest finds? Metropolis consists of three areas: the Upper City, or acropolis, with its temple of Ares – the chief God of the city; the Middle Town, with its official buildings such as the bath-gymnasion and theatre; and finally the extensive Lower City with buildings that date mainly to the Roman period. Between 1990 and 2006, Metropolis was excavated by Recep Meriç, while I took over in 2007.
During my time, we have made two important discoveries in the Lower City. First, in 2007 and 2008, we unearthed a wonderful peristyle house near the southern slope of the theatre. The large, square yard in the middle of the house is covered with marble and lined with four pillars on each side. The colourful wall paintings and other rich finds suggest this house belonged to a wealthy citizen who lived in the Roman period. Suddenly, we are casting new light on the details of daily life in Metropolis. Our second major discovery was a Roman palaestra (or athletic training area) to the south of the Lower Bath. Last year, our work focused on this building, with its marble floor inside and magnificent mosaic gallery, some 6m wide, surrounding the outside of the wall.
Thus, our latest work has revolutionised understanding of this city, uncovering the first monumental public building, as well as the first well-preserved private house. The ruins of Metropolis are set to become a favourite international and local tourist attraction in a few years, owing to their easy access from Adnan Menderes Airport and via the port of Kuşadası.
Metropolis can only be explored by foot, and the site has a 1 mile (1.6km) long walking path. It can be visited at any time of year.
---
This article is an extract from the full article published in World Archaeology Issue 41. Click here to subscribe