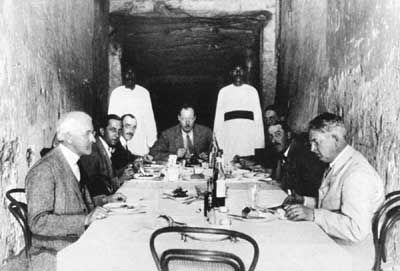 ..AT LAST HAVE MADE WONDERFUL DISCOVERY IN VALLEY STOP A MAGNIFICENT TOMB WITH SEALS INTACT STOP RE'COVERED SAME FOR YOUR ARRIVAL STOP CONGRATULATIONS ENDS…
Once deciphered, so read Howard Carter's coded telegram sent from Egypt on 6 November 1922 to his wealthy patron the 5th Earl of Carnarvon. His 'wonderful discovery' was of course the boy-king Tutankhamun who lay buried amid unimagined marvels of art and craftsmanship. Howard Carter was swiftly catapulted into world fame, arguably becoming the best-known of all our archaeologists.
Yet he died in 1939 without receiving any British honour, and having been held in academic contempt by many members of the Egyptological community. But why? Perhaps it was jealousy, perhaps they viewed him as a lowerclass upstart, or perhaps they looked down on his lack of a university education.
Now based on a newly updated biography of Carter by HVF Winstone, we are finally able to uncover something of the truth about the man who changed the face of archaeology Carter was born 50 years before his great Egyptian discovery. He grew up in a 'quaint old house' in London's Earls Court to a family with a background in farming. His father Samuel was an artist of exceptional skill, but of rather limited imagination who specialised in animal portraiture and made a respectable living from sentimental renderings of dogs and other pets.
Most of Samuel's eight surviving children inherited something of his talent, including Howard who shared his father's love of art. Howard's mother Martha was a woman with a taste for luxury and her son grew up with a penchant for comfort and good things.
Once he was 15, Howard was aware that he must contribute to the family purse and was ready to earn a living by drawing. His father had a number of patrons, including the Amherst family for whom he had worked since finishing art-school training; several of his commissions graced their Hall at Didlington in Norfolk. It was natural that Howard would work for the Amhersts too. This was to determine the direction of his life.
Amherst was a man devoted to books, art and Egyptology. He soon recognized the young boy's artistic talent and remarkable facility for making perfect representations of even the most fleeting of images. He gave Howard the run of his library and galleries that displayed some of the rarest treasures of the past. Indeed, the Amherst Collection contained the most important private assembly of Egyptian art and papyri in England. This aroused in Howard a 'longing for that country, for the purity of her blue sky, her pale aerial hills, her valleys teaming with accumulated treasures…' Shortly after Howard entered her husband's employment, Lady Amherst introduced him to an aspiring Egyptologist of the time, Perry Newberry. In 1890, Newberry had been appointed Officer in Charge of the Archaeological Survey of Egypt, a branch of the Egypt Exploration Fund. He was so impressed by Howard's skill that he employed him as an assistant draftsman for The Survey. Thus, in September 1891, the 17 year-old Carter arrived in Egypt.
Once there, he was introduced to the great Egyptologist Flinders Petrie, who was just over 20 years Carter's senior. Amherst was seeking a concession in Egypt and had suggested that Carter be apprenticed under 'the master's eagle eye'. Carter soon learnt to move confidently if not always with ease among such men, quietly assured of his exceptional ability as a draughtsman and water-colourist, unabashed by his tender age and lack of formal education that most of those around him took for granted as a precondition of their calling. On the whole they seem to have been impressed by him. Evenings were spent at Petrie's Cairo lodgings, listening to the conversations of men who had experienced the heat of the search and the joy of discovery, absorbed by technical, artistic and chronological disputation which brought ancient Egypt alight and reinforced his belief that although only 17 he had found his metier by the Nile. Petrie came to impress him ever more, as he recalled: 'The meeting of Flinders Petrie, a man of simple tastes, endowed with a discernment which gave him confidence and power to solve archaeological problems, remains one of the impressible incidents of my early life.
As a son of an Artist, what perhaps interested me most, beside the extent and precision of his knowledge, was his recognition and love of fine art'.
Carter resolved to find the same confidence, knowledge and discernment. Carter's first job was at the beautiful tombs of Bani Hassan in middle Egypt with their magnificent wall drawings and inscriptions. Carter's talent was put to the test. The method of copying the wall decorations consisted of hanging large sheets of tracing paper on the surface – no matter whether the drawings were flat or in relief, or whether the walls were smooth or granular – and working over the outlines with a soft pencil. The tracing sheets were then rolled up and sent to the British Museum where another draughtsman inked over the pencil rendering, all outlines being filled in silhouette, 'more than often …by persons without a knowledge of the original or of drawing. …the results were far from satisfactory', wrote Carter many years later. But at that time, he was young and inexperienced, and felt he had to obey and carry out their 'extraordinary method of reproducing those beautiful Egyptian records…'. Thus he devoted his time to making faithful colour drawings of the more interesting details of the original murals and even before his 18th birthday dispatched to England a notable batch of copies of some of ancient Egypt's artistic masterpieces.
Come Christmas 1891, he and Newberry joined Petrie at Amarna. This was the 14th century BC city established by the so-called heretic king Akhenaten as the centre of Aten sunworship. Akhenaten lived there with his queen Nefertiti and after his death his faith was adopted briefly by his successor, Tutankhamun. Thereafter his Aten-centric faith was rejected along with the regime that had espoused it. The court went back to Thebes and Akhenaten was deserted and fell to ruin. It remained virtually untouched, a mound of rubble called in Arabic Tell al Amarna, for nearly 3,500 years.
Petrie organised the sale of part of the site to Amherst who decided that, if Petrie was willing, his protégé Carter should 'try his hand at excavation'. Carter expressed 'sad misgivings' at the thought of becoming a digger. Petrie agreed that the lad's interest was entirely in painting and natural history and there seemed little point in training him up as an excavator. All the same, Petrie decided to toughen up the boy and prepare him for the rough and tumble of field archaeology.
The Petrie rules were applied strictly: no chairs or tables; only packing cases for furniture; a month's supply of tinned food and other necessities provided and a small paraffin lamp, the cost to be debited to his account. Never throw away an empty tin, he was told, since they were good for storing antiquities. No servants were permitted, and Carter was expected to look after himself and his room. After only a week shadowing Petrie at Amarna, Carter and a small team set to work on the 'Amherst' territory.
Carter was satisfied to be working on a small scale even if his efforts were 'wide of the mark and to little or no purpose'. For a 17 year old to be in charge of an excavation was unprecedented in modern archaeological practice, though he was under the hawkish eye of Petrie. As a consequence of this experience, Carter wrote that it became 'my great desire to be an excavator. To me the calling had an extraordinary attraction'.
The following years were spent digging and drawing – notably Queen Hatshepsut's extraordinary mortuary Temple of Deir al Bahari in Thebes, which ranks as one of the best preserved, greatest buildings of the ancient world. By 1900, he was working in the Valley of the Kings. Carter gathered detailed information on all the burial sites and began his quest of discovery. At around the time, a certain George Edward Molyneux Stanhope Herbert, Lord Porchester (or 'Porchy' as he was always known to friends), suffered a road accident that spurred him to convalesce in Egypt. Porchy, born in 1866 was eight years older than Carter, and as the 5th Earl of Carnarvon, was of an entirely different class. His father was an outstanding classical scholar who took a first in Greats at Oxford. However, at Cambridge his son was more often at the races than at lectures and his father took little interest in him.
Nonetheless, under Carter's guidance, Porchy began to assemble a great Egyptian collection. In 1907 he joined Carter's excavations, soon acting as Carter's patron, but despite efforts, found nothing remarkable.
Following the Great War, in which Carter acted as a translator in the course of clandestine exchanges between British and French officials and their Arab contacts, Carter determined to explore the Valley of the Kings further.
However, as the years rolled by, many concluded that the Valley was exhausted. So much money and effort had thus far been spent to so little avail. In June 1922, Carter made a final request for help from Carnarvon. Arriving at his patron's Hampshire estate he unravelled a map of the valley and pointed to a relatively small area that had not yet been properly investigated, close to the tomb of Ramses VI.
Carnarvon agreed to one last dig. Work began in the general area in November 1st 1922. A few days into November, a limestone step was discovered. It was the top step of a 16 step stairway. Work went on at fever pitch. At the end of the stairway was a sealed door. On the 6th of November he sent his telegram to Lord Carnarvon. Carnarvon arrived on the 25th. By the 26th, they had cleared away the last scraps of rubbish on the floor of the passage that lay before a second door. And the rest, as they say, was history Despite some gaps in information, Carter precisely recorded the subsequent uncovering of Tutankhamun's tomb, including admissions of emotion such as his 'exhilaration of discovery, the fever of suspense, the almost over-mastering impulse, born of curiosity, to break down the seals and lift the lids of boxes…' Of the tomb Petrie said 'Nothing like it had ever been found before'.
By the start of December, the great men of archaeology were queuing up to contribute their mites. By January 1923, Carter and Carnarvon had become the most famous men in the world. Overnight fame brought with it 'many unaccustomed and extraordinarily harassing problems' as Carter put it. He and Carnarvon had a series of blazing rows about digging and about publicity. However, their relationship was cut short by Carnarvon's untimely end – seemingly from an infected insect bite – in April 1923. 'The curse of the Pharaoh' was about to become a new, repetitive headline (by 1927, the list of deaths of those associated with the discovery grew to over 20: 'proof' of the curse).
In the west, as the 1920s drew on, Carter made enormous sums of money as the most popular public speaker since Oscar Wilde. Though prosperous, he remained a solitary man, ever more distant from his family, sure of his own capabilities and often dismissive of others: moody, taciturn and suspicious; feeling forever a victim of England's class-infused society that took more account of background than of achievement. There were some women in his life, but affairs were brief and seldom blossomed into companionship. Carter had few, if any, confidents.
Over the ensuing years, Egyptologists began to point to the artistic wonders of Carter's discovery, but point out the paucity of archaeological gains. The famous scholar Alan Gardiner, for example, though impressed with Carter's excavation skills was to say 'the discovery had added very little to our knowledge of the history of the period'. Others bemoaned the fact that the discovery had not been properly published. Indeed, it is only now, some 80 years on, that the Griffiths Institute in Oxford is engaged in the painstaking and accurate record of Carter's achievement (see CWA 18).
In 1932, following the closure of the tomb, Carter returned to London. He was unwell: Hodgkin's disease was diagnosed. He was looked after by a 'handsome young man', whose name no one seems to have remembered, but which has led to rumours of homosexuality. The end came to Carter in March 1939 at the age of 65. After his death, he left most of his goods – including Egyptian antiquities – to his niece, Phyllis Walker. The antiquities were investigated and while it was clear many had been purchased legally from dealers, it was also apparent that a number came from the tomb, notably a large turquoise blue headrest bearing the cartouche of Tutankhamun, then worth many thousands of pounds. Were these items taken during a rumoured illicit entry to the tomb by Carter, Carnarvon and a few others, before the official opening in November 1922? Unfortunately, it seems likely that they were.
And so, wading through rumours and stories, adventure and delight, HVF Winstone has revealed something of the boy, the artist, and the archaeologist who discovered Tutankhamun
---
This article is an extract from the full article published in World Archaeology Issue 22. Click here to subscribe