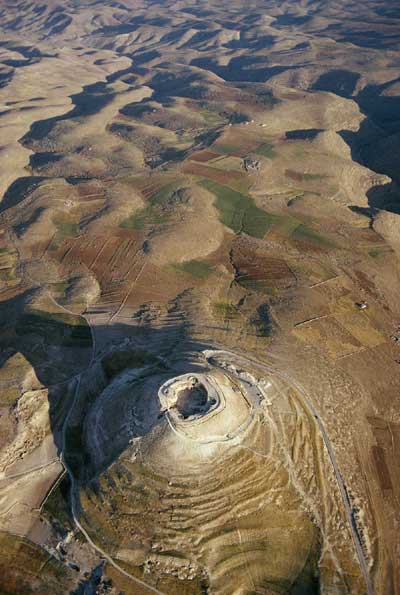 The British Museum is currently hosting an exhibition like no other seen before at the British Museum: an exhibition of photographs more expected in an art gallery. However, this is an exhibition allied to archaeology. It features around 100 aerial photographs of famous archaeological and heritage sites from around the world. This unique collection is the life work of Swiss photographer Georg Gerster.
The exhibition – entitled The Past from Above, Through the lens of Georg Gerster – covers sites from five continents. Image upon image is engrossing, alluring, and important. Indeed, in many cases, Gerster's photographs act as the only record of sites that have since been damaged or lost. These losses may be the result of environmental destruction; destruction through excavation; or the removal of material for other purposes – for example, local reuse of ancient bricks in modern buildings (something that has happened throughout history). Then there is the destruction that accompanies conflicts. This has, of course, been happening to the ancient sites of Iraq, many of which have recently sustained damage as a result of bombardment and looting.
The photographs have a further dose of archaeology thanks to the exhibition's inclusion of culturally relevant objects from the Museum's world collection. Thus, alongside an image of Egypt's Kharga Oasis lies a Mummy portrait; while a seated Buddhist goddess strikes a pose beside a shot of Anuradhapura in Sri Lanka; and a stone handaxe – one of the earliest objects made by humans from the Olduvai Gorge in Tanzania – sits beside a photograph of the area. This mix of objects and images turns the exhibition into something rather more than just a collection of photos.
The exhibition was originally held at the Ruhrlandmuseum in Essen, Germany, the work of its innovative curator Charlotte Trümpler – who also master-minded the exhibition, Agatha Christie and Archaeology: Mystery in Mesopotamia, held at the British Museum in 2001.
Yet despite the interesting nature of the exhibition, the British Museum is not an art gallery. Alas there were no long galleries or huge walls to accommodate the images. Instead, the museum curators were limited by a relatively small exhibition space that had been further carved up with requisite (false) display walls. And in order to show as many images as possible in the space allowed, rather disappointingly a number of the photos – often complex in nature – had to be reproduced to the size of this magazine and smaller.
For those unable to visit the exhibition, a splendid catalogue, edited by Trümpler and published in Britain by Frances Lincoln Ltd (Paperback £25) offers even more images than are on show on the walls of the British Museum.
---
This article is an extract from the full article published in World Archaeology Issue 21. Click here to subscribe