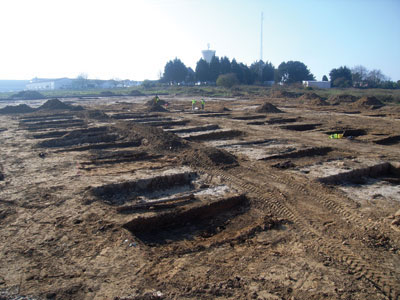 Prisoner-of-war camps were set up in Normandy for German soldiers following the D-Day landings. After the capture of Cherbourg and the Cotentin Peninsula, the Allies stopped sending prisoners to internment camps outside Europe. The camp at La Glacerie, established by the American authorities in August 1944, was the first of many to be erected in the region. In August 1945, it was handed over to the French authorities and was finally closed in October 1946.
It was during archaeological investigations for Gallo-Roman remains, in advance of a proposed housing development, that the excavation team came across significant archaeological features containing WWII artefacts. Further research, including discussions with local landowners, revealed that this was, indeed, the site of a former POW camp.
The Service Régional de l'Archéologie (SRA) took the unprecedented decision to order a full-scale rescue excavation – the first ever for a World War II archaeological site in France – and called in Oxford Archaeology to carry out the project. The two big questions were: How does the archaeology compare with the historic record? And can archaeology replace living memory, which, by its temporal nature, will soon no longer be available to us?
Aerial reconnaissance throughout World War II built up an invaluable archive of photographs. One, found at the French records library at Le Mémorial, Caen, is dated to August 1947, and shows the site of the POW camp. But it had already been dismantled.
However, an RAF sortie in August 1945 produced a photograph that, astonishingly, revealed the complete layout of the camp. No other source of information has been found that shows the actual layout.
It was a formal camp, developed to the south of an east-to-west aligned road that is still in use today and descends to the west of Cherbourg. A less well-organised, elongated rectangular area can also be seen to its south-west.
Documentary studies show there were several POW camps in the community of La Glacerie, each referred to by different identification references. Confusingly, these references changed when camps were handed over to the French authorities.
The reference number of this particular camp was unknown, a major drawback to applying the mass of documentary and photographic evidence available. So excavation was key to linking it to the documentary sources.
Establishing identity
A major breakthrough came with the discovery of five identification tags that were stamped 'Labor Service Center 137 112'. This, then, was a 'labour camp' attached to the south-west boundary of the main POW 'transit' camp.
By combing excavation and aerial photographic evidence, a detailed record of the layout and features within the labour camp could be ascertained. It occupied a rectangular area of approximately 10.5ha, subdivided into 16 rectangular compounds, each of which contained 80 to 100 structures or tents. Further structures and roadways to the south-west suggest it was serviced and administered separately from the transit camp.
Five compounds were chosen for excavation, to establish whether they had different functions or imprisoned different nationalities.
This is an extract.  The full article can be found in issue 51 of Current World Archaeology, on sale now.