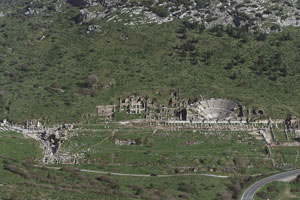 When Otto Benndorf, Emeritus Professor at the University of Vienna, presented his excavation project plans to the Ministry of Culture in 1893, he calculated that Ephesus could be uncovered in about five years. What followed has been the largest archaeological enterprise carried out on Turkish soil under Austrian direction – 115 years of excavations.
The excavations were originally concentrated on the civic hill of Ayasoluk and then successively extended to encompass a variety of regions of the ancient urban area. Field research was abruptly interrupted by the First World War, and in the inter-war period, research focussed on the public bathing complexes and the numerous monuments of early Christianity. Once again, a world war interrupted the activities, and it was not until 1954 that excavations recommenced. With the massive efforts of man-power and machines, entire urban regions were then brought to light during the course of the following decades. The high points of the work were, without doubt, the discovery of the altar in the Artemision and the excavation of the terrace slope houses.
Much attention has also been focussed on preserving and protecting this iconic site in order to open it to visitors. In addition to the recently-erected protective roof over Terrace Slope House 2, two completely different renovations may also be mentioned in this regard; namely, work to the façade of the Library of Celsus, and on the Memmius Monument, the four-sided victory arch erected to the memory of a 1st century AD soldier called Memmius, grandson of dictator Sulla of Roma.
Mass tourism puts huge demands on archaeology at Ephesus. The extremely high number of visitors – up to two million per year – brings revenue and enables scientific work to be displayed to the public. However, it also imposes great stress on the antiquities, and it is a balancing act to combine the often contradictory components of goal-oriented research, public relations work, and touristic marketing.
What of our latest work? During our five-month excavation campaign in 2009, a total of 174 scientists from 11 different countries, and over 60 local workers, were employed at Ephesus. In addition to archaeologists, the following specialist disciplines were also represented: restoration, architectural history, anthropology, archaeozoology, archaeometry, Byzantine studies, numismatics, epigraphy, photography, geodesy, spatial planning, chemistry, geography and geology. We undertook 12 excavation projects, as well as scientific analysis of numerous monuments and artefacts. A highlight of the 2009 excavation was the discovery of the sanctuary for the goddess Meter/Kybele at mount Panayirdag. There, we found 12 marble-reliefs showing Meter, Zeus and Hermes. Together, we are contributing ever greater knowledge and care to this glorious site.
---
This article is an extract from the full article published in World Archaeology Issue 41. Click here to subscribe