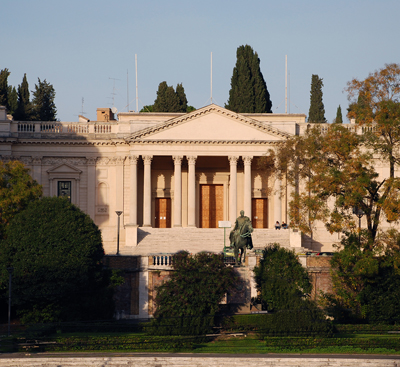 In 1911 a major international exhibition was held in Rome, and the British put up a particularly splendid pavilion designed by Edwin Lutyens and based on Christopher Wren's designs for the west front of St Paul's. The result is a triumph: it is difficult in Rome to produce a classical building that is both British and Roman, but in this coolly classical masterpiece, Lutyens succeeded magnificently.
Following the exhibition, the Commune of Rome donated the ground to the British nation for the construction of a new British School. The BSR had already been officially founded in 1901 and was in rented premises, but architects and artists were also looking to found a new school in Rome. Eventually Rennell Rodd, the poet and diplomat who was the British ambassador in Rome, knocked some heads together, and ever since the BSR has comprised not only archaeologists, but also a healthy admixture of architects and artists. The architects include the future town planner Sir William Holford, while Anthony Blunt was for several months a student at the BSR. In 2001, the BSR celebrated the centenary of its official founding in 1901, and to mark the occasion the then Director Andrew Wallace-Hadrill compiled and, to a large extent, wrote a splendid celebratory volume: The British School at Rome: One Hundred Years, available from BSR, British Academy, 10 Carlton House Terrace, London, SW1Y 5AH.
The BSR lies on the far (northern) side of the Villa Borghese gardens, Rome's greatest public park. With the Etruscan Museum to one side, and the Modern Art Gallery to the other, and several foreign institutes nearby, it is in a cultural enclave. When the BSR was built, it backed onto open countryside, though today Rome's suburbs stretch out behind it. With the park immediately in front of it, the Valle Giulia is notorious for the 'battle' fought there in 1968 between the Police and the revolting students who had occupied the Modern Art Gallery.
The history of the school is dominated by its two great directors, Thomas Ashby and John Ward Perkins. The story of Thomas Ashby is one of triumph and tragedy, based on his relationship with his deputy director, Eugenie Strong. Ashby was appointed Director in 1906 at the age of 32. He was a director of vision and energy, driving through the acquisition of the new premises and the building on two sides of the quadrangle behind it. He also commenced the topographic study of Rome and the Roman Campagna.
---
This article is an extract from the full article published in World Archaeology Issue 42. Click here to subscribe