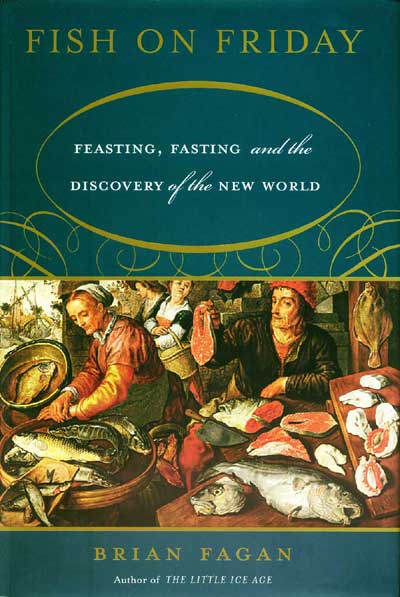 Fish on Friday
Brian Fagan, Basic Books, £15.99
Chosen by Timothy Darvill, Professor of Archaeology at Bournemouth University.
Sometimes archaeological research can both challenge and expand conventional history. Here Brian Fagan does both by suggesting that North America was well known to the fishermen of northwest Europe long before Columbus and Cabot claimed the New World and sailed into the history books. Fish was the key.
Catholic Christian prohibitions on eating meat on fast-days and during Lent promoted the consumption of fish on a vast scale. Herring was the traditional catch in the Irish Sea, North Sea and Baltic, but as the population rose and stocks of herring dwindled, fishing fleets edged gradually westwards to the rich waters of the Grand Banks, Nova Scotia, and the Gulf of Maine. Cod especially was ideal as it could be salted and dried to preserve it for the journey home.
Bristol became central to the Atlantic fishing industry, and Fagan argues that Bristol's merchants were well aware of the distant lands across the Atlantic but kept details a closely guarded secret. Not surprisingly therefore, it was from Bristol that Cabot sailed for Newfoundland in 1497. Woven around Fagan's study of the medieval sea-fisheries is the story of boats and boat-building, informed by a personal knowledge and love of sailing. And interspersed with the narrative are nearly a score of fishy recipes, ranging from Roman Seafood Stew to Newfoundland cod cakes. So forget the turkey and trimmings this year, combine the pleasure of reading this book with some culinary experiments and it will be well into the New Year before you have to worry about what's for supper.
---
This article is an extract from the full article published in World Archaeology Issue 26. Click here to subscribe