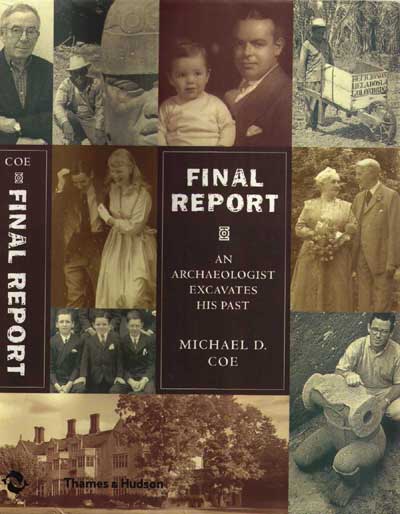 Final Report: An Archaeologist Excavated His Past
Michael Coe,
Thames and Hudson, £18.95 
Michael Coe is one of the great figures of American anthropology. He was Professor of Anthropology at Yale and Curator of the Peabody Museum, but his name will be familiar to readers of Current World Archaeology for his writings for a wider audience, notably the books on the Maya and on Mexico, to say nothing of his splendid book on Reading the Maya Glyphs as well as one on Angkor Wat and the Khmer civilisation. Now, in Final Report he 'excavates' his past in a superb autobiography.
His is no rags to riches story. On the contrary, he was born with a silver spoon in his mouth and though he dutifully gives the background to the very respectable but not very affluent Coe family, the silver spoon came from his maternal grandfather Henry Rogers, one of the great robber barons of the late 19th century who organised the Standard Oil Trust, and after he fell out with Rockefeller, constructed a highly profitable railway company. Coe's upbringing therefore was what might be called privileged, and he wafted his way through Harvard not quite knowing what to do. Eventually he decided that he wanted to become an archaeologist, but before he completed his doctorate, the Korean War broke out, and he was recruited as a CIA agent. He then spent the next two years on a small island off what was then called Formosa (now Taiwan) being partly bored by a lack of action, but at the same time learning Chinese and an awful lot of practical anthropology.
After his return to civilian life he resumed his studies at Harvard and met and married a beautiful Russian émigré called Sophie whose father was a distinguished professor of botany. He then turned to academic life and began his excavations in Guatemala. His first somewhat unhappy appointment was at the University of Tennessee where he was clearly out of place, but learnt to do salvage archaeology in advance of the dam-building that was still continuing in the 1950s, flooding many of the valleys which contained rich Palaeo-Indian remains. Eventually he got a job at Yale where he remained for the rest of his career, rising up the ranks.
Coe's main career lay in studying Mesoamerican archaeology. His principal field of study were the Olmecs who produced huge sculptures and eventually proved to be the earliest of the great Mesoamerican civilisations dating to around 900 BC. When he began, the establishment tended to believe that they were 'late', but he was one of those who proved their early date. And then there is his involvement in the decipherment of the Mayan script. He was not a linguist himself, but clearly he was one of those who smoothed the way to the acceptance of the decipherment which was hotly opposed by Eric Thompson, the doyen of Mayan studies.
The crucial figure in the decipherment was the Russian scholar Yuri Knorosov in Leningrad, and no one believed that such a crucial breakthrough could come from such an unlikely source. Here however Coe's Russian wife proved a great advantage, and together they set off for Soviet Russia and actually met Knorosov and proved to be the link between these two very different worlds. He wrote a fascinating book on the decipherment of the Mayan glyphs.
Then there was one of many trips to England, where Coe lunched with Glyn Daniels at Cambridge who promptly invited him to contribute a book on the Maya to the Ancient People and Places series. This was a welcome opportunity to combine his love of archaeology and his love of writing, and the Maya were shortly to be followed by a book on Mexico and the Aztecs. There is a story of how Coe bought a holiday hideaway in the remote hills of Massachusetts, which led him into pioneering the study of historical archaeology and the early settlement of the area by the American colonists.
The material culture, as he points out, was mostly imported from England.
Coe's retirement at the age of 65 was clouded by the death of his wife after 40 years of marriage, but he has continued to write.
Clearly he has had a happy and fulfilled life, achieving much himself but perhaps just as important, enabling others to reach their potential, and to smooth the way to combine new ideas with establishment positions. One hopes that this Final Report will prove not to be final, and that there will be yet more to come.
---
This article is an extract from the full article published in World Archaeology Issue 22. Click here to subscribe