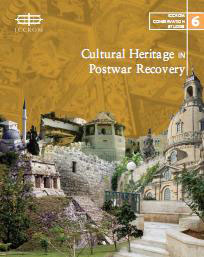 Maintaining conservation standards in our towns and villages is essential work but light years away from the stench of cordite in Beirut or the poignant sight of Italian soldiers distributing bread below the citadel in Durres. This uplifting collection of 12 papers reminded me of our core values for they bring together the experiences of countries down on their luck – conflict zones for example in former Yugoslavia or in Palestine, Laos and El Salvador.
The essays remind us that cultural heritage is part of the economic regeneration process and of the role it can play in reconciliation. Its positive tone is admirable given the subject matter and reinforced my belief in the resilience of the human spirit in the face of violence and oppression, and in the role of cultural heritage in restoring the lives of people and their communities.
Chosen by Geoffrey Wainwright, President of the Society of Antiquaries and Chairman of Wessex Archaeology.
---
This article is an extract from the full article published in World Archaeology Issue 32. Click here to subscribe