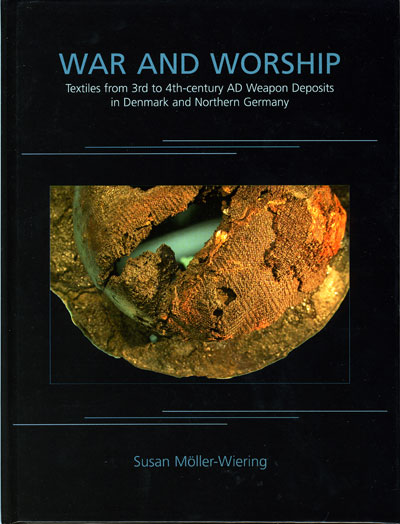 To many archaeologists, Northern European bogs mean votive offerings of Iron Age weapons. This book focuses on four sites renowned for their metal finds – Thorsberg in Germany; and Nydam, Vimose, and Illerup Adal in Denmark. Here, however, Susan Moller-Wiering investigates a lesser known aspect of these deposits: the well-preserved textiles also recovered from them.
Some of these are associated with the metal artefacts (a fur or fabric trim on a shield boss or spearhead, pieces of cloth used to wrap objects before they were laid in the bog) but others represent pieces of clothing – some of them, like a pair of woolly trousers from Thorsberg, astonishingly complete. Moller-Wiering suggests that these garments were also intended as sacrificial offerings, perhaps belonging to warriors defeated in battle.
As a thorough catalogue of individual finds, describing kinds of weave and speculating on details like colour, this would be a challenging introduction for a beginner, though Moller-Wiering does provide a textile-themed glossary at the start of the book. Readers without a good knowledge of German will also find Chapter 9 somewhat inaccessible. Nevertheless, for anyone interested in studying Iron Age ritual practice in greater detail, this is a useful tool, highlighting four exceptional case studies.
---
This article is an extract from the full article published in World Archaeology Issue 50. Click here to subscribe