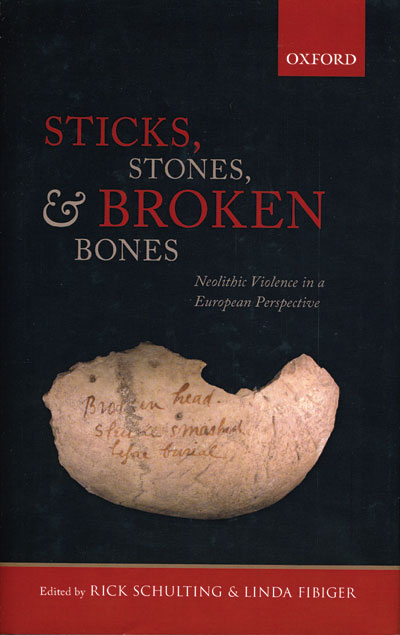 Eds Rick J Schulting and Linda Fibiger
Oxford University Press, £80.00
ISBN 978-0199573066
'Nasty, brutish, and short.' Thomas Hobbes was not describing life in Neolithic Europe, but his words seem an apt description of the average experience of the period. Drawing on a two-day conference in 2008, this is the first comparative synthesis of studies on interpersonal violence across different regions and peoples, with 17 papers bringing together evidence from 11 countries.
Signs of injuries on human skeletons provide the most direct evidence of violent interactions, and this authoritative compilation leads us through the study of this grisly field. We learn how to analyse the cause and severity of an injury – some examples are obvious, with stone projectiles still embedded in bone, while others require a little more detective work, such as circular depressions in skulls possibly inflicted with antler clubs. The most common markers of violence are broken nasal bones, jaws, and forearms; less mundane evidence includes signs of unhealed and (worse?) survived scalpings. Particularly interesting – and poignant – is Wahl and Trautmann's paper on a mass grave from Talheim, Germany, where the remains of at least 34 men, women, and children, aged between 2 and 60, probably belong to a community slaughtered during a raid by a rival clan.
The language is occasionally clinically technical, but those eager to learn more are spoiled for choice by the 44-page bibliography.
This article is an extract from the full article published in World Archaeology Issue 55. Click here to subscribe