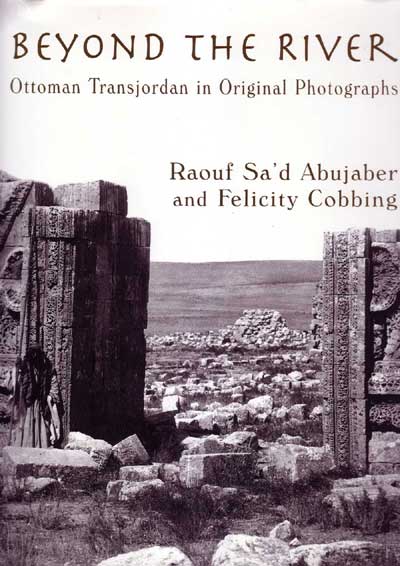 To the east of the small town of Madaba in Jordan – famed for its 6th century AD Mosaic Map, the earliest known map of the Levant – is the Persian Palace of Qasr el-Mushatta. So impressive were these Persian ruins that Layard, writing in 1840, described them as 'a marvellous example of the sumptuousness and selfishness of ancient princes'.
Unfortunately, the preservation of the wonderous Qasr el-Mushatta, built some 27 centuries ago, has suffered somewhat over the past century. This is true for many of the other monuments of the Transjordan region.
Luckily, from the late 19th century, a variety of explorers from, or associated with, London's Palestine Exploration Fund (PEF) donned their new-fangled cameras and captured the rugged landscape and ancient monuments of the Transjordan region.
Beyond the River reproduces over 200 of their black-and-white photographs, all dated from the late 19th to early 20th century. Many are published here for the first time, and the monuments – most famously, Petra – appear in a seemingly pristine state. That is, before they had been touched by archaeologists or modern tourism or the ravages of modern development.
All the photographs, which are complemented by a selection of oil paintings, come from the collections of PEF, and reflect the interests of the PEF, the explorers who worked for it, and those who donated photographs to it. Added interest arises from the fact that all pictures were taken during the tumultuous era of British mandate rule leading up to the establishment of the Hashemite Kingdom of Jordan in 1946.
Authors Felicity Cobbing, Curator at the PEF, and Dr Abujaber, distinguished historian of 19th century Transjordan, thus provide an illuminating retrospective on a time before there was any Western knowledge or real understanding of the region's history. The images tell of a region of relatively untouched beauty and deeply held traditions – indeed the book gets its evocative title from the Islamic belief that Musa (Moses) was buried somewhere beyond the River Jordan.
We recommend this well-presented, thoroughly-researched, and (for a weighty coffee-table sized book) extremely reasonably priced, title to all those with a fascination for Middle Eastern history, archaeology, or early photography.
---
This article is an extract from the full article published in World Archaeology Issue 15. Click here to subscribe