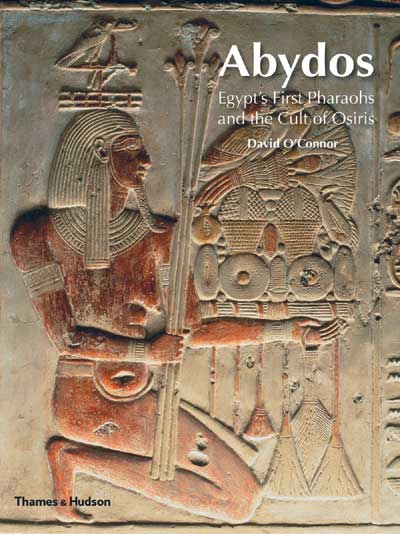 Abydos, one of the most ancient and venerable sites in Egypt, was the focus of the Cult of Osiris – the lord of the dead – and was held in the highest regard by the ancient Egyptians. It has also been the focus for a series of important and unusual discoveries, which makes it all the more surprising that there has been no summary book on the site for over 30 years. For, during the past three decades, important work at Abydos has been undertaken by several expeditions, including by this title's author, David O'Connor of the University of Pennsylvania Museum.
Professor O'Connor's book presents a good examination of the importance of Abydos, the history of archaeological research at the site, and the significance of the new discoveries. But rather than a conventional historical narrative, the author has divided the book into three sections, each of several chapters. The first deals with Abydos and Osiris taking as its starting point the great temple of the New Kingdom pharaoh Seti I (c.1290-1279 BC), which dominates the site, and relating it to the cult of Osiris.
Part II Life Cycle of a Sacred Landscape examines the evolution of the landscape, its rediscovery and the developments taking place there at particular points in Egyptian history which led to the Abydos we know today. The last section, Origins of the Abydos Landscape takes us to the earliest phases of Abydos, back to the 3rd millennium BC, the evidence for the earliest writing known from Egypt and the discovery of the important boat graves which are believed to have been for the afterlife use of some, as yet unknown, ruler.
The chapters are supported by well chosen notes that refer to a useful select bibliography, making it a helpful tool for general reader and student alike. There are many sites in Egypt which await a similarly broad approach to decoding a sacred (or other) landscape and placing it in its widest historical context.
Thanks to its strong archaeology, this book will appeal to both those with a general interest in archaeology, as well as those with a particular interest in Egyptology. This publication is by Thames and Hudson and, as one would expect, it makes full use of excellent photographs and line drawings. My only real criticism is the limited use of colour, with only 16 of the 140 illustrations getting this treatment. Nonetheless, this is a book to enjoy with a clear and lively written style.
Review by Paul T Nicholson, Senior Lecturer of Egyptology, Cardiff University
---
This article is an extract from the full article published in World Archaeology Issue 36. Click here to subscribe