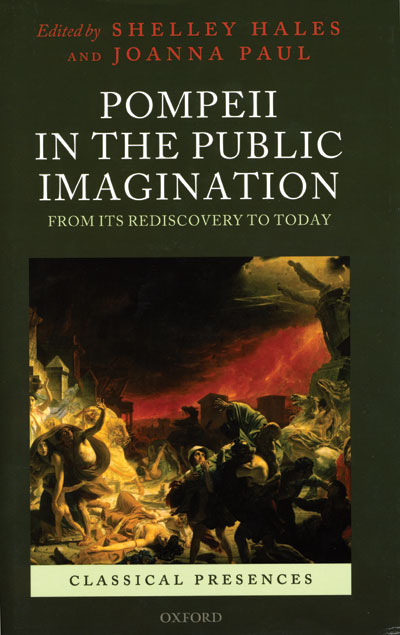 Shelley Hales and Joanna Paul (eds)
Oxford University Press, £80
Walter Scott called it a 'City of the Dead'. To Goethe it was a 'mummified town'. Part mausoleum, part museum, Pompeii's timeless ruins have fascinated visitors since their rediscovery over 250 years ago, providing inspiration to students of Classical art who have sought to resurrect the city through their craft. But in this new collection of 25 essays we learn that the mythologising of its destruction began before the disaster had even passed out of living memory. Pliny the Younger watched Vesuvius erupt from a safe distance at Misenum, and his letters to Cornelius Tacitus provide a carefully crafted narrative full of colourful 'eye-witness' detail and rhetorical flourishes. 'There were some who prayed for death in their terror of dying,' he wrote. 'Still more imagined there were no gods left and the universe was plunged into eternal darkness for evermore.'
Further essays discuss interpretations of the city in painting and sculpture, literature and photography, as well as some of the famous names who drew on it for inspiration, from Freud and Dickens to Mark Twain. Particularly interesting are the discussions of 19th-century Pompeii-mania; of the sentimental and morbid fetishising of plaster casts of the dead, the moralistic novels portraying 'decadent' Pompeii as a Classical Sodom or Gomorrah, and the pyrotechnic spectaculars in Vauxhall Gardens where canvas and wood panoramas were obliterated nightly in a blaze of fireworks. Modern artistic responses are also covered, from the Cambridge Latin Course to Pompeii's influence on B-movies and Dr Who.
This is a thought-provoking and wide-ranging work, bringing together such diverse subjects as changing attitudes to Pompeii's erotic material and the excavations' impact on 19th-century Italy's emerging political identity. Its often-surprising insights shed new light on this most familiar of sites.
---
This article is an extract from the full article published in World Archaeology Issue 52. Click here to subscribe
Enjoyed this article? Click here to read more by subscribing to CWA magazine.