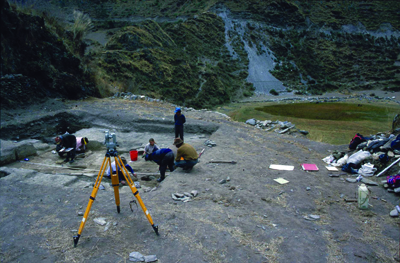 The fact that llamas defecate communally so that their dung is easily gathered underpins the cultural achievement of the Inca civilisation and leads directly to the construction of Machu Picchu, says Alex Chepstow-Lusty, a British palaeoecologist working at the French Institute of Andean Studies in Lima.
Chepstow-Lusty has studied pollens and oribatid mites from the sediments that now virtually fill the former Lake Marcacocha looking for evidence of domesticated crops and animal husbandry in the Cusco valley in the central Andes over the last 4,200 years. Writing in the journal Antiquity (Vol 85, No 328, pages 570–82), he says that there is evidence for the introduction of highland maize 2,700 years ago that also corresponds to a significant reduction in weed seeds, indicative of deliberate cultivation. At the same time, an abundance of oribatid mites is seen as an indication of high concentrations of llama dung, which was used not only as the fertiliser that enabled corn to be cultivated in thin high-altitude soils, but was also used as fuel for cooking and for make ceramics.
Climate change, in the form of warmer temperatures, also helped by making it easier to cultivate corn at high altitudes but, says Chepstow-Lusty, 'this widespread shift to maize production was only possible through the use of organic fertilisers on a vast scale'. The availability of sufficient, regular food marked the starting point for expanding populations, transforming the region's political economy and enabled the Incas to emerge as the dominant power.
---
This article is an extract from the full article published in World Archaeology Issue 48. Click here to subscribe