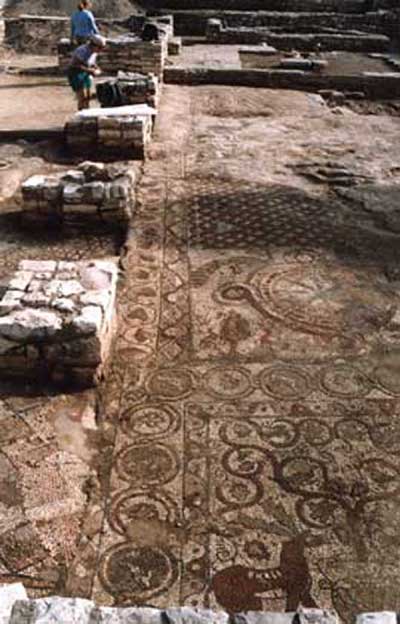 Impressive remains of a 5th or 6th century AD synagogue have been uncovered in the coastal city of Saranda, Albania, which lies just opposite the Greek island of Corfu.
Initial excavations at the site were conducted some 20 years ago when Albania was under tight Communist rule. However, the remains of this religious structure have only just seen the light during joint excavations by the Albanian Academy of Sciences and the Hebrew University Institute of Archaeology.
The archaeologists have discovered that the synagogue underwent various periods of use, including its conversion into a church at its last stage. Particularly noteworthy among the finds are two mosaic pavements. At the center of one of them is a seven-branched candelabrum, flanked by a citron (a fruit similar to a lemon) plus a ram's horn – all symbols associated with the Jewish holidays. The other mosaic pavement includes a variety of animals, trees, and symbols alluding to Biblical lore, together with the facade of a structure resembling a temple (possibly a shrine for the Torah). The excavators have also found other mosaic pavements, which pre-date the building of the synagogue.
In coming years the archaeologists hope to continue excavations and investigate other parts of the synagogue that remain covered by modern buildings and streets.
---
This article is an extract from the full article published in World Archaeology Issue 4. Click here to subscribe