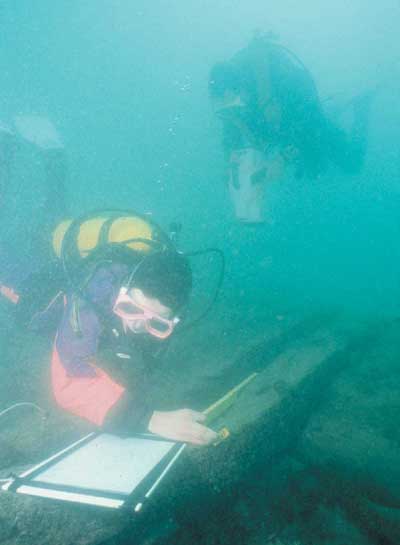 Caesarea Maritima
Professor Avner Raban of the Recanti Institute for Maritime Studies at the University of Haifa is hosting an underwater excavation of the submerged remains of the ancient harbour of Caesarea Maritima. King Herod founded Caesarea Maritima between 22 and 10 BC to honour the emperor Caesar Augustus; it served as the main port and administrative capital for Herod's kingdom. Caesarea Maritima grew to become the headquarters of the Roman administration of Judea, later Palestine. It was the place where Pontius Pilate governed, where the Apostle Paul was imprisoned, and where the great Jewish revolts began in 66 and 132 AD. Land excavations, conducted since the 1950s, have uncovered city streets, private dwellings, aqueducts, baths, a circus, a stadium, a theatre and a number of other public buildings and religious shrines. There will be no land excavations until the summer of 2005.
Participants in the underwater excavations will be accommodated in a local motel. Three meals per day are provided during the working week. Excavation dates: 30 May – 24 June 2004. Minimum stay: 2 weeks. Application deadline: 30 April 2004 (non-refundable deposit $50). Cost: $425 per week (Saturday night to Thursday afternoon). For further details, contact Archaeology Abroad.
---
This article is an extract from the full article published in World Archaeology Issue 2.
Click here to subscribe