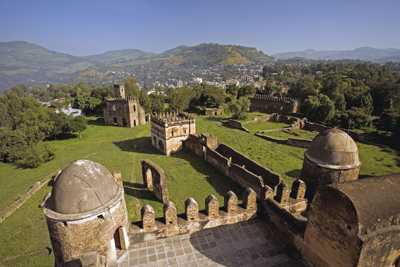 From the imposing stelae at Axum to the churches at Lalibela carved out of solid rock, Ethiopia has an incredibly rich heritage. Travel writer Judith Baker takes us on a journey through the North to discover more.
It is a sad truth that upmost in our minds when Ethiopia is mentioned are images of starving children, Bob Geldof , and Band Aid's 1984 charity pop-song Do They know it's Christmas?. As one of the oldest Christian civilizations in the world, 'yes they do know'; and despite an image of a distant land, tainted by famine and war, Ethiopia is currently conflict-free, and replete with enthralling sites waiting to be explored.
One of the best ways to see the country is via the Northern Ethiopian historical route, which takes in the famous rock-hewn churches of Lalibela, the ancient site of Axum, the magical castle city of Gondar, and the 37 monasteries on Lake Tana.
We begin our journey at Ethiopia's gateway city of Addis Ababa, the world's third highest capital at over 3,000ft above sea level. A bustling capital city of 5 million people, its name means 'New Flower'. While there, take time to visit the Kiddist Selassie (Holy Trinity) Cathedral, the final resting place of the Emperor Haile Selassie, and the National Museum. The latter houses a replica of one of Ethiopia's most famous residents: 3.2 million-year-old Lucy, the name given to the hominid skeleton of a woman – or possibly a man, as researchers now think – found in the Great Rift Valley of the Afar Depression in 1974. Ethiopians call her Dinkenesh meaning 'you are wonderful'.
A religious route
From Addis, it is a scenic drive to Bahir Dar and Lake Tana. The Tana area is the traditional home of the Amhara, a Christian people whose language was for many years the national language of Ethiopia. Tana was also homeland of the Falashas, who practise a form of Judaism that appears to have been severed from the Jewish mainstream before 650 BC.
With a surface area of 2,282m2, Lake Tana is the largest lake in Ethiopia, and is also the source of the Blue Nile – a connection that explains many of Ethiopia's links with various other past civilizations. Tana was known to the ancient Greeks as Pseboe and to the ancient Egyptians as Coloe. The picturesque lake is dotted with islands, many of which shelter isolated monasteries containing the remains of long-dead Ethiopian emperors and treasures of the Ethiopian Church. The lake is still used by locals whose papyrus reed boats, called tankwas, differ little from those depicted on the tombs of the Pharaohs.
The 37 islands and peninsulas of Lake Tana collectively house more than 20 monastic churches, most of which date back to the Gondarene period (of the 15th and 16th centuries). Mysterious and moving, the old churches ofLake Tanaform peaceful retreats. Boats take visitors to Ura Kidane Miheret, Azwa Mariam, Kibran Gabriel, Entos Eyesus, and Narga Sellasie, famous for their old manuscripts, crosses, icons, and paintings (note that women are not allowed to enter the Kibran Gabriel Monastery).
The strong conservationist element in Orthodox Christianity has ensured that the monasteries double as nature sanctuaries. Along the lake shore, bird life both local and migratory makes this an ideal place for bird watchers. If you are lucky, you may spot hippos and white pelicans in the water. TheBlue Nilefalls is one of the key attractions of the area: known as Tis Issat (smoking water), it is 400m wide and 40m deep.
Some 181km north of Bahir Dar, we come to Gondar, known as Ethiopia's Camelot, or  the 'City of Castles'. Picturesquely located beneath the Simien Mountains, this 17th-century Royal Enclosure contains the two-storey Palace of Emperor Fasiladas, hewn out of brown basalt. Fasiladas and his successors lived at a time whenGondarwas the country's capital. Just outside the fortress city is the 'bathing palace' of Fasiladas. Here, also, is the superb church of Debre Birhan Selassie, whose ceilings are covered with paintings of 80 winged angels, with no two the same. Legend has it that the church was saved by sacred bees when the other churches in Gondar were destroyed by the Dervish of Sudan.
CHRISTIAN CELEBRATIONS
If travelling in mid January, visitors can experience Timkat on 19 January. This is Ethiopia's most widely celebrated festival, and marks the baptism of Christ. Gonder is considered the best place to be at Timkat, as crowds gather to jump into the waters of King Fasiladas' baths. Christmas, or Leddet, is also celebrated on 6-7 January inEthiopia. Priests don their full regalia and the faithful worship throughout the night, often moving from church to church in procession.
Lalibela and Axum
From there, it is on to the strange, isolated town of Lalibela, originally known by the name Roha. According to local legend, the 12th-century prophet Lalibela fell into a deep sleep and was transported to heaven by an angel who showed him a city of rock-hewn churches, which he was ordered to replicate. As soon as he was crowned, Lalibela is said to have set about gathering the world's greatest craftsmen and artisans in order to carve the churches. It is believed that one of the churches was built in a single day with the help of angels (see also CWA 18).
Lalibela's churches are connected to each other by a tangled maze of tunnels and passages.
They were cut out of solid, red volcanic tuff. The churches, which are grouped into four clusters, are a major pilgrimage site for Ethiopian Orthodox Christians. Among them is Bete Emanuel, a 36ft-high monolith considered by art historians to be the finest and most precisely worked church in Lalibela, possibly because it was the private church of the royal family. Bete Mercurios is a cave church originally used for secular purposes and thought to be around 1,400 years old. Carved in the shape of a symmetrical cruciform tower, Bete Giyorgis is the most majestic and best preserved of all Lalibela's churches. Outside the churches, do not be surprised to see hermits living in holes in the rock, or the remains of mummified bodies piled neatly in the walls, their brown bony toes sticking out obligingly for passing tourists to photograph.
From there, our next stop is Aksum, which was the centre of one of the world's most powerful kingdoms from the 1st to 7th centuries AD, converting to Christianity in the 4th century. It is home to three magnificent monolithic stelae, carved from single pieces of granite, as well as the Church of St Mary of Zion and, reputedly, the mystical Ark of the Covenant. But the Ark is well hidden inside a guarded chapel, looked after by a solitary monk who can never leave the sanctuary.
Axum is linked with the Queen of Sheba who, according to the Bible, travelled to Jerusalemto meet Solomon and bore his son, Menelik I of Ethiopia. Archaeological remains attributed to Shebacan be found just outside Axum. These include a palace, with a still an intact flagstone floor and number of stairwells. There are also bathing areas and hewn granite stelae that are said to mark the grave of the queen – though archaeological evidence indicates these items were built long after any such queen might have lived.
A 15-strong team of British, American, and Ethiopian archaeologists, led by Cambridge Professor David Phillipson, has engaged on research to uncover more of Axum's ancient past – including its 'pre-Aksumite' past, which dates back to the early 1st millennium BC. Despite having discovered a great deal of interest, according to Phillipson, as much as 97% of Axum's history is still 'shrouded in mystery'.
Rich Islamic heritage

While Ethiopia is famous for being one of the oldest Christian civilizations in the world, about half of the population is Muslim, and the two communities have lived side by side for centuries.
The recent discovery of the remains of a number of ancient cities in Ethiopia has rekindled debate about Ethiopia's remarkable past. Of these, Gendebelo, described in the historical texts as a peaceful Medieval merchants' city in which Muslims traded with Christian, was believed lost for 1,000 years. However, in 2009 it was finally re-discovered by a team of French archaeologists led by Francois-Xavier Fauvelle-Aymar and Bertrand Hirsch. They located it at a place now known as Nora, which had been abandoned for years except for the mosque, still used by local farmers.
The pair based their explorations on a fragment of the chronicle of the Muslim Kingdom of Shoa, which the Italian scholar and Ethiopia expert, Enrico Cerulli, found in a souk in the walled city of Harar in 1936. This Ajami manuscript – a form of Arabic supplemented with Amharic script – described the legendary city, and was being used as packaging for sugar! They also studied the writings of a 16th century Venetian traveller called Alessandro Zorzi, who wrote of finding a lost city inEthiopia.
The ruins of Gendebelo are a bit out of the way for most modern travellers. But, one great Muslim centre is accessible – Harar. Situated in the eastern part ofEthiopia, Harar is considered to be the fourth holiest sight for Muslims after Mecca, Medina, and Jerusalem. Harar, now a UNESCO World Heritage Site, was founded more than 1,000 years ago and is enclosed by a city wall. There are three mosques dating back to the 10th century, and the house of French poet Rimbaud, who lived there when he was working as a gun runner.
Ethiopia's richness of culture is matched by the surprising lushness of much of its landscape and the hospitality of its people. It is a fascinating land for those interested in archaeology, adventure – and kind angels!
---
This article is an extract from the full article published in World Archaeology Issue 47. Click here to subscribe