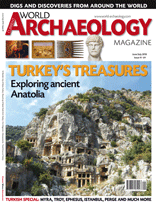 This issue features a trove of Turkish treasures. We begin in the ancient city of Myra on the southern coast of Turkey. This was once home to St Nicolas, the benign 4th century bishop of subsequent Santa Claus fame. Myra's remains include a vast 11,000 capacity Roman-era theatre and numerous intricate rock-carved tombs — as pictured on the cover. However, it is estimated that the majority of Myra's archaeology lies locked beneath metres of accumulated alluvium. So, in 2009, Prof. Nevzat Çevik launched major excavations to discover more — and found some most unexpected remains.
Santa's city is followed by a round-up of the biggest Turkish archaeological news. We begin in Istanbul, a European capital of culture 2010, and then profile the latest finds from a rich range of sites — from the exquisite city of Perge to the fame and glory that is Troy.
The travel section is also dedicated to Turkey — specifically to the South. First, Ãœmit Aydino?lu takes us on a tour of the ancient Olba region, a rugged area peppered with Hellenistic towers and replete with Roman-era aqueducts. Thereafter Ay?egül Gürgezo?lu explores the dramatic mountainside city of Arycanda. Something of a hedonists' resort, in antiquity it had the reputation of being home to some of the land's most pleasure-loving, entertainment-driven (and debt-ridden) citizens.  
In addition to this Turkish extravaganza, we also step back into the European Ice Age with a feature on Cro-Magnons, and then discover the scandalous story of Penn Museum's first dig in Mesopotamia.
FEATURES
MYRA
The sunken metropolis of St Nicolas: What happened to this ancient city on Turkey's southern coast, home of 'Santa Claus'?
TURKEY
Latest greatest discoveries: From Istanbul to Troy, we sample a selection of stunning and archaeologically significant sites.
EUROPE
Cro-magnons: Brian Fagan investigates what life was like for our European ancestors in the harsh Ice Age climate.
MESOPOTAMIA NIPPUR
the calamitous truth behind Penn Museum's first excavation, now the subject of a major new exhibition.
TRAVEL — Turkey special
Olba Territorium:   This rugged terrain in Southeast Turkey is peppered with archaeological gems.
Arycanda: We journey up into the mountains of the Antalya province in Southwest Turkey, to visit this panoramic Lycian city.
REGULARS
READERS WRITE
Qatar's archaeology; Crane comb?; Lascaux Fiasco; Siracusa's secrets.
WORLD NEWS
Latest on archaeological news, discoveries and scientific research.
NEWS EXTRA
Brian Fagan digs deeper into the news.
REVIEWS
BOOKS 2000 Years of Mayan Literature Dennis Tedlock; Bodies in the Bog and the Archaeological Imagination Karin Sanders.
GREAT DISCOVERIES      
Akrotiri The Bronze Age town entombed by a volcanic eruption on the Greek island of Santorini.