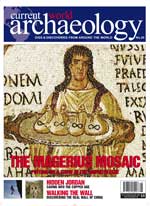 CWA 25 covers the globe from the blood and gore of the Roman amphitheatre – where a mosaic by the flamboyant Magerius describes his beneficience – to Copper Age cave burials in the Levant. This issue also includes in its travels a visit to the Great Wall of China and two trips to the Caribbean, one to Antigua, the epicentre of slavery, empire and wealth; the second in search of rock carvings in St Vincent and Grenada.
 The Magerius mosaic: Putting on a show in the Amphitheatre
A mosaic from the village of Smirat, Tunisia contains two long inscriptions which reveal how entertainment was put on in a Roman amphitheatre.
Hidden Jordan: Caving into the Copper Age
The Council for British Research in the Levant is sponsoring a Ritual Landscapes Project in search of Copper Age burials.
 
Walking the real Wall of China
Architect and archaeologist Paul Woodfield writes about the Guibeikou to Badaling section of the Wall.
Antigua: Sun, sea, sugar and slaves
The archaeology of Antigua in the Caribbean, once at the epicentre of slavery, empire and wealth.
 
Old gods waiting for new believers: On the quest for Caribbean Petroglyphs
Explorer Michael Chaplan goes on the trail of petroglyphs in St. Vincent and Grenada.
A postcard from the Metropolitan Museum, NYC
A missive from the new Greek and Roman Antiquities gallery of New York's Metropolitan Museum.
Regulars
NEWS
DNA analysis suggests mystery mummy is Queen Hatshepsut; new research provides more support for our African homeland; exquisite Ice Age figurines foundin Germany; cause of death revealed for Ötzi the Iceman.
DIARY
Three Faces of Monotheism exhibition, Jerusalem; Andante Travels offer £2,000 archaeological prize; Fieldwork at Motilla del Azuer, Spain; Parkinson's Charity TrekPeru 2008; manuscripts from Persia to Paris at the Fitzwilliam Museum, Cambridge.
BOOKS
The World of Ancient Art; The Archimedes Codex; The Archaeology of Fire: understanding fire as material culture.
Readers' Letters
Celts of Spain; Canopic jars from the Louvre; Mediterranean sea changes; modern humans and Neanderthals; Sicilian delights; Malta's inaccessible sites; Alpacas.
ON SITE INSIGHTS
Domenico Camardo, the lead archaeological consultant of the Herculaneum Conservation Project, tells all about this glorious south Italian site.