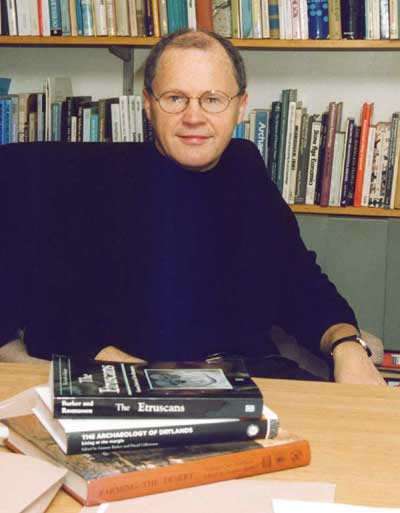 Graeme Barker, the Disney Professor of Archaeology at Cambridge, has just won a $500,000 prize awarded by the Dan David foundation. The Dan David prize awards three annual grants of US$ 1 million to those involved in developing and advancing world knowledge. Prizes are offered in three time categories: the Present, Past and Future, and Professor Barker was joint winner, with Israel Finkelstein, distinguished Israeli archaeologist, of the Past category.
Graeme Barker is famed for being not only a key thinker within archaeology, but also an excellent field worker. This has given him the unusual distinction of popularity among both armchair and active archaeologists.
Barker won the Dan David prize thanks largely to his cutting-edge research on Libya's semi-arid landscapes. His work, which took place within the context of a UNESCO project, involved the development of new excavation techniques and survey, and the use of novel technology such as satellite imagery and GIS (geographic information system) survey data. However, Graeme Barker also won because of his integral role in the promotion of archaeology: he has served as Director of the British School of Archaeology in Rome, and is now President of the Prehistoric Society plus a Chair of the British Academy's Board for British School and Institutes Abroad.
However Professor Barker will not have all the prize for himself: the prize, which is headquartered at Tel Aviv University, has a further aim: the desire to foster the next generation of scholars. Thus each of the laureates is given the task of donating 20 scholarships of $15,000 (i.e. $300,000 of the $500,000) to outstanding doctoral students from throughout the world in their chosen field.
The man behind this prize, Dan David, is the founder and Chairman of Photo-me International, whose photo booths are found in shopping centres and train stations across the world providing passport photos. Dan David was born in 1929 in Bucharest Romania, but in 1962, an interest-free $200,000 loan from a cousin gave him the opportunity to develop his photographic inventions and technology patents – including the automatic color photo booth. But Dan David never forgot the relative who encouraged him as a youngster and now he wants to encourage others, hence the 2001 launch of this prize.
For more information on the Dan David Prize, please refer to www.dandavidprize.org
---
This article is an extract from the full article published in World Archaeology Issue 11. Click here to subscribe