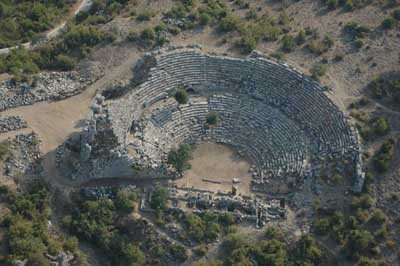 The Aegean coast of Turkey is awash with Classical sites. Yet many are unknown even to the informed visitor. Here, David Kennedy powers up a microlight plane to take us for a heavenly view of just one such site: Kaunos.
On the Aegean coast of Turkey you are seldom far from the remains of some great Classical city. Many are familiar names – Pergamum, Priene, Ephesus, Halicarnassus, Mytilene, Miletos… However there are dozens more that, while relatively unknown to most, have much to offer the archaeologist. Ancient Kaunos (modern Dalyan) is one such site.
In recent years British tourists in particular have flooded into the little town of Dalyan in southwest Turkey. It is only about 120km east-southeast of the famed seaboard site of Bodrum but a long road trip from the great ruins there, and a half day's drive to the wonderful ruins of Aphrodisias and Hierapolis.
Though there is little of antiquity among Dalyan's restaurants, villas and swimming pools of the expatriate and tourist town, this all changes on its western side.
There we find a site that is part of the immense archaeological richness of western Turkey; a site that – as at other coastal sites in this region – is the by-product of coastal change; and also, because it is a tourist site, a place where a rare opportunity can be taken up: flying.

In practise, aerial archaeology has never been possible in Turkey – one of the great lost opportunities of archaeology in the Middle East. However, many of the major sites have been photographed from the air and published, and the Turkish authorities are increasingly relaxed about tourist flights along the coast of the Aegean.

Visitors to Dalyan can now take a flight in a microlight aircraft to follow a circuit from Iztuzu Beach to Dalyan via the ruins of Kaunos.
---
This article is an extract from the full article published in World Archaeology Issue 34. Click here to subscribe