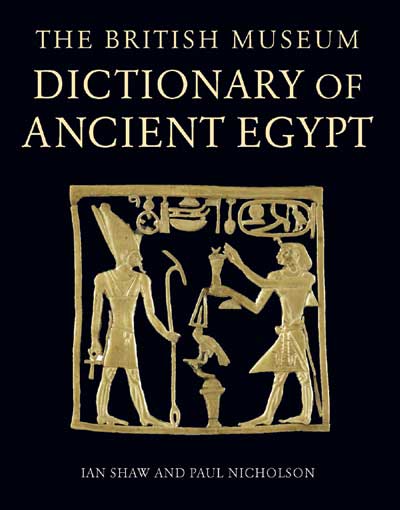 This book is one of those rare reference works that is affordable, scholarly, yet accessible. Profusely illustrated, this dictionary belongs on the bookshelf of anybody interested in Ancient Egypt whether general reader, student, or experienced scholar.
This single volume, comprising 368 tightly printed but easily legible pages contains the most current information on a wide range of topics. It include readily recognisable entries such as 'Tutankhamun', 'pyramids', and 'papyrus' but also covers less familiar subjects such as 'Zawiyet Umm el-Rakham', ' Khyan', and 'batter' (an architectural term unrelated to food). In addition, it deals with the history of Egyptology, famous Egyptologists, and even includes a useful piece on the Supreme Council of Antiquities, (the government body responsible for Egypt's cultural heritage).
Each entry is written in an uncomplicated, accessible manner without sacrificing scholarship. Thus, the bibliographies for each subject are kept brief and essential, pointing the reader to the main and current discussions. Moreover, hundreds of high-quality images enhance the discussions. Many entries feature artefacts from the British Museum, while others present less familiar photographs of sites and reliefs taken by the authors.
Recently up-dated from the 1997 edition, the authors include all the latest information and thinking—making this a valuable book even for the most experienced scholar. For example, we are given new information on 'familiar topics' such as incense and 'incense cones' which are now thought to be purely symbolic, rather than representative of any sort of lump of fat or perfume actually worn.
The dictionary is helpfully laid out with useful cross references to allied subjects. Various spellings of the (notoriously varied) Egyptological names and sites are also offered. A basic chronology is included, along with appendices listing the names and dates of Egyptologists mentioned in the text; and the known owners of tombs in Western Thebes with their corresponding tomb numbers. An index completes the volume.
By combining stunning visuals expected from a coffee-table book with content that reflects current Egyptological scholarship, the authors have succeeded in producing an excellent reference work. Strongly recommended.
Review by Kasia Szpakowska, Dept. of Classics, Ancient History, and Egyptology, Swansea University, Wales
---
This article is an extract from the full article published in World Archaeology Issue 36. Click here to subscribe