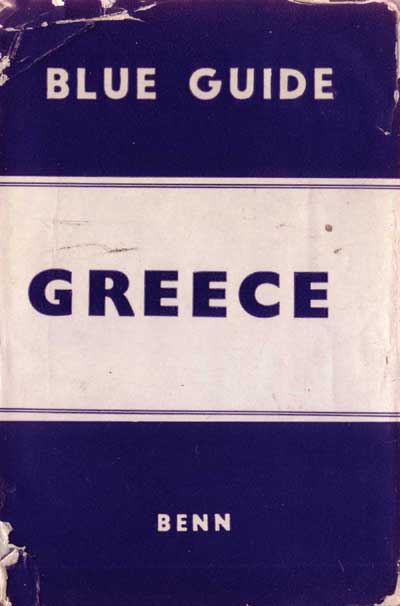 Guide books are essential for the visitor. I wanted to recommend the Blue Guides, which I have always found helpful, writes Andrew Selkirk. However, the Blue Guides have changed hands, and the new owners have apparently decided to take the Guides down-market. Previously owned by Ernest Benn, they then passed into the ownership of A & C Black, but now they have a new owner, Somerset Books. During my recent visits to Mycenae and several other sites in the Peloponnese I felt that they were seriously deficient.
The whole point of the Blue Guides is that they are the archaeologists' guide books. They tend to give wonderfully detailed accounts of the archaeology, and omit details of beaches or golf courses, with brief (if any) information about hotels or restaurants.
I have three editions of the Blue Guide to Greece: the original 1967 edition by Stuart Rossiter; I then have the 5th edition of 1988 by Robin Barber; and I have recently acquired the 7th edition of 2006, Greece, the Mainland, by no fewer than six different authors. It is illuminating to compare the accounts of Mycenae in the three volumes. Stuart Rossiter gave two plans of Mycenae, a fold out general plan marking most of the tombs described here, and a more detailed plan of the citadel. Robin Barber also gave the same two plans, — the detailed one rather bigger and more legible — and also an isometric view of the Treasury of Atreus. Unfortunately, the latest account does not give a single plan at all, but instead three rather pointless coloured pictures.
Readers of CWA will therefore be far better off with the Rough Guide to Greece which gives a plan of Mycenae and a photo of the Treasury of Atreus. The Rough Guide is far more wide-ranging, costs only £14.99, and has 1,200 tightly packed pages covering the whole of Greece. In comparison, the new Blue Guide costs £17.95, has just over 700 pages, but the text is far too loosely set out. It has a nice typeface and is well headed, and would be good for reading as a novel or travelogue. But guide books are not novels: they should aim to have text that is densely packed together to give as much information as possible in the shortest space and lightest weight. (I often cut up my Rough Guides into small 100 page chapters to make them truly pocketable: cutting up books is painful, but in the case of guide books, necessary if they are to be carried around dusty sites alongside cameras, water, and food.)
I do hope the new owners will think again about their Blue Guides. They may face tough competition from other guide books. However the Blue Guides have, or had, a unique selling proposition: better plans and more plans and more specific archaeological historical and cultural detail than any other guide book series (indeed the recent Blue Guide to Jordan remains superb). However if they omit the plans, and stuff them full of irrelevant colour photos of cherry orchards, they will lose their whole marketing position, their whole raison d'etre. So please, Somerset Books, realise what you have: a unique archaeological treasure. Reinstate all the plans, build on the superb scholarly texts that you have inherited – and drop all the pretty yet irrelevant pictures.
---
This article is an extract from the full article published in World Archaeology Issue 28. Click here to subscribe