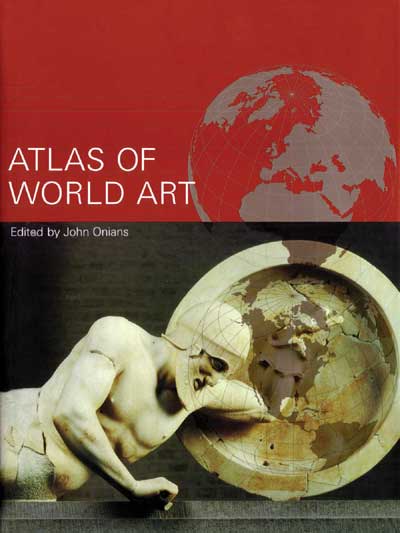 Atlas of World Art
John Onions, Laurence King Publishing, £75
How far is it possible to talk of 'world' art? John Onions, Professor of Visual Arts at the University of East Anglia, clearly thinks that it is possible, and in the Atlas of World Art he has produced a work that is full of provocative and stimulating maps and designs. It consists of a series of double page spreads, with essays contributed by a number of authors, illustrated by numerous maps and plans which tend to overshadow the actual illustrations of works of art.
The most successful contributions concentrate, not so much on the art, but on the conditions in which it was produced – the patrons who commissioned it and the influences from other countries. Perhaps the best single example is the map of the Low Countries from 1300 to 1500 with tapestries going out from Flanders but wool coming in from the Cotswolds and other British regions.
There are inevitably some quibbles. It is arranged in six sections, not all of which are happy choices: for instance the period 500 BC to AD 600 is labelled War and Empire, when in fact for much of Europe and indeed Asia and Africa, this was dominated by the Roman Empire which provided one of the longest periods of peace the world has ever seen. It is a pity too that five successive chapters covering the Roman empire are given to a single author, Martin Henig: yet the view of art from Athens or Ephesus is very different from the view from Britannia. Similarly, the period 1500 to 1800 is labelled Exploitation and Display, yet surely this is the age of the rise of the private connoisseur and in Britain at least of Puritanism. The century 1900 to 2000 is labelled Ideas and Technology, yet in Britain for instance, the Arts Council is never mentioned. Should not rather more be made of the rise of Marxism and Socialism? And as with many academic books, the word 'market' is taboo: some of the chapters by default ask the relevant questions as to who commissioned the art, and the constraints under which it was produced, yet I cannot help feeling that a more rigorous approach along these lines would have been helpful, especially in the editor's own chapters on Greek art.
The atlas is in many ways a child of the cultural revolutions of the 1960s; it aims to break away from the European traditions and take 'quite a different point of view, acknowledging that we are animals and seeing the production of culture as part of our nature'. I am not quite certain what, if anything, this means; but the strength of the book lies in the way that it looks at the availability of raw materials and shows how art has been influence by faith, trade, and war as well as by its patrons and those who commission it and support it.
---
This article is an extract from the full article published in World Archaeology Issue 7. Click here to subscribe