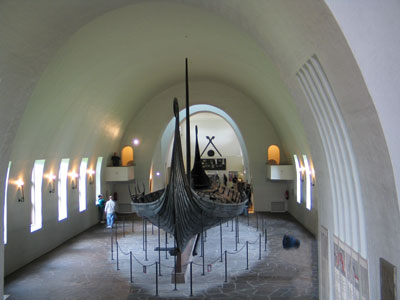 Down on the quayside in front of Oslo's fabulously functional City Hall, a small queue of tourists gather to catch the ferry that will take us to see some rather older boats – more than a thousand years older, in fact. As we scud across the steely waters of the fjord, past the forbidding walls of Akerhus fortress and banks of brightly coloured boats bobbing at their moorings, the hall's twin red-brick towers recede into the distance. They were designed by one of Norway's foremost architects, Arnstein Arneberg, and it is to see another of his creations that we are making the short crossing to Bygdøy (a peninsula popularly known as 'Museum Island'): the Viking Ship Museum.
From Bygdøynes harbour, a short, well-signposted walk takes you to Arneberg's distinctive cruciform structure. Its simple exterior gives no hint of the archaeological treasures lying within, but stepping through its doors you are immediately met by the great dark prow of the Oseberg ship, rising dramatically against the building's stark white walls. With the slender lines of her hull and her elaborate carvings staggeringly well preserved by the blue clay soil of the Vestfold farmland where she was entombed in the 9th century, the vessel could have sailed straight out of an illustrated edition of the Norse sagas.
Excavated by Prof. Gabriel Gustafson in 1904 (CWA 52), the ship was found in pieces but has been painstakingly reassembled, with an end result that looks remarkably seaworthy. Her level of preservation seems almost too good to be true, but around 90% of the timber you see is original 1,200-year-old oak, displayed in surroundings designed to focus all eyes on this Medieval masterpiece – the wing's plain white walls and curved ceiling hold only a few monochrome excavation photographs and discreet, pewter-grey information boards to distract attention. It is tempting to linger in this chamber, free as you are to wander and admire the ship from all angles – you can even climb up to small balconies in each corner to overlook her deck, complete with mast, racks of oars, and water barrel, but in the museum's other rooms there are equally awe-inspiring finds to explore.
While the Oseberg ship, which contained the remains of an elderly woman and a younger female companion, was probably an ornate pleasure craft only intended for short journeys in calm waters, in the hall to the left lies a much more business-like vessel, the robustly built Gokstad ship. Excavated in 1880, this was designed to sit much higher in the water than her elegant companion, and could accommodate 32 rowers – the wooden flaps used to close her oarholes while on the open sea can still be seen. Measuring 24m (nearly 80ft) in length and hung with 64 painted shields, this was a Viking vessel par excellence, reused as the final resting place of a tall man in his 60s, probably a powerful chieftain. His funerary chamber, a tent-like timber structure, can be seen in the next room, together with the remains of a ship called the Tune.
Less well known than the other two vessels, probably because her state of preservation is not so impressive, the Tune dates from the same period as the Gokstad ship, c.850-900, and was the first to be discovered, in 1867. No reconstruction has been attempted as very little of her hull has survived, but this ragged skeleton allows visitors to examine how the craft was put together, revealing details lost beneath the deck of her more-complete sisters.
The final wing houses a wealth of artefacts recovered from the Gokstad and Oseberg burials. Centuries before their excavation, grave robbers had broken into the ships and helped themselves to any valuable objects – perhaps explaining why no jewellery or weapons were found in such high-status graves – but what remains shows that these were lavish arrangements, provided with every convenience for the afterlife.
The Oseberg women were buried with cauldrons, cooking utensils, and large quantities of food, as well as agricultural equipment and weaving tools – perhaps representing the administrative responsibilities of their owner. During the Viking Age, textile work was an important aspect of the female sphere, often alluded to in the sagas, and the Oseberg burial is one of our main sources of information for weaving techniques during this period. The clay that sealed the grave and ensured the survival of the ship's timbers also provided an ideal environment for the preservation of textiles, and rare fragments of silk, tapestry, and wool blankets can be seen in a small, dimly lit room to the side of the chamber. Furniture recovered from these graves – including beds, chests, and the only known chair from this period – have also given important new insights into domestic arrangements at this time.
The Gokstad chieftain's grave goods were more modest than those found in the Oseberg ship, but still included three small boats, furniture, and finely made riding equipment. Many of the objects may reflect the man's leisure interests, such as the remains of a tent, a hunting rucksack, and a game board. One of the more unusual items is the remains of a peacock – perhaps a gift from a visiting foreign dignitary, or a souvenir brought back from a raiding or trading expedition. Small finds are arranged in display cases around the walls, together with a set of enigmatic wooden posts shaped to look like animal heads, but the most breath-taking objects lie in the middle of the hall: a wagon and three sledges, all exquisitely carved with human and animal figures, and decorated with nails arranged in complicated patterns.
For those interested in Viking Age Scandinavia this is something of a wonderland, but if that were not enough, on your way out you can climb the stairs to a small mezzanine above the entrance where human remains from the Oseberg and Gokstad ships lie in glass cases. Panels describe how research has shed light on the individuals' health, diet, and DNA – as well as detailing the academic debates that saw the contentious bones reburied in 1948, only to be exhumed once more in 2007 (CWA 45).
Should you have the brainspace after all this, 'Museum Island' is also home to the Norwegian Maritime Museum, and two more collections celebrating Norway's proud tradition of marine exploration: the Fram Museum – where you can actually walk on board the famous ice vessel with which Roald Amundsen beat Captain Scott to the South Pole in 1911 – and the Kon-Tiki Museum, which focuses on the daring feats of experimental archaeology that saw Thor Heyerdahl sail the Pacific on a homemade raft to test his theories on how the Polynesian Islands were settled. With an early start and a bit of determination it is just about possible to see all of these in one day – though you might need a restful evening in one of Oslo's many waterfront bars and restaurants after catching the little #91 ferry back to the bustle of the city.
---
This article is an extract from the full article published in World Archaeology Issue 56. Click here to subscribe
Enjoyed this article? Click here to read more by subscribing to CWA magazine.