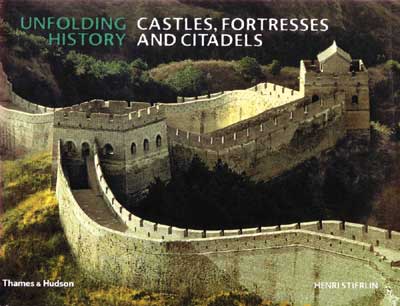 Unfolding History: Castles, Fortresses and Citadels is almost a superb book. It is a follow up to the author's earlier Unfolding History, which dealt with great monuments of the ancient world, in that it features 30 sites from around the world, each of which is highlighted by a magnificent colour photograph that folds out to more than double A4 in size.
Many of the fold-outs are aerial shots. This perspective often throws new light on the site. Take, for instance, the fortress of Dun Angus in Ireland.
Though air photos of Dun Angus are well known, as are photos of the cliffs upon which the fortress perches, here we see both the fortress and the cliffs in an utterly breathtaking composition.
Then there is a stunning aerial shot of the Great Wall of China, shown snaking for miles across a bleak landscape upon a seemingly endless chain of mountain crests. Also superb is a photo of Bam in Iran. It shows the entire site – both the fortress and the town – all on the same fold out plate. Bam was destroyed first by Genghis Khan, then by Tamerlane, and was rebuilt on several occasions until it was finally razed to the ground by the terrible earthquake of 2003. This book offers a privileged record of the site as it was before the earthquake, replete with its towering thick walls pierced with rows of arrow slits and topped with merlons.
The book cleverly draws on an eclectic selection of sites: from more traditional archaeological citadels such as Bam and Paramonga in Peru, to aerial views of The Tower of London, the bunkers of Cap-Ferret – part of the Second World War's Atlantic Wall in France, and of Alcatraz the USA's erstwhile notorious prison.
In the previous Unfolding History book, the photos were not quite sharp enough which spoilt one's enjoyment. This problem has now been overcome and the images are generally stunning. However, if I were to have a niggle it would be the USP of the fold-out approach. Even though the book is still new, white-coloured page creases are beginning to creep out of the folds, which spoil the aesthetic of the shots somewhat. The second niggle is that though each site is accompanied by two pages of smaller photos and text, I do just wish at times that space had been found for plans that would explain what is to be seen in the main fold out photos.
This book is translated from the French original and niggles notwithstanding, it is a splendid book, and one that would make a pleasing gift, for those among us who love to pour over detailed pictures.
---
This article is an extract from the full article published in World Archaeology Issue 17. Click here to subscribe