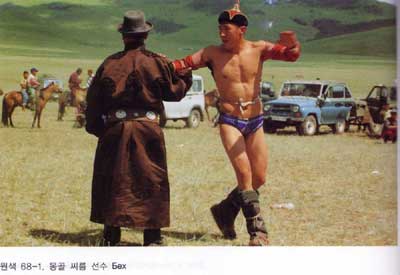 And now for the reviewers ultimate challenge: how to review a book written in two languages, neither of which the reviewer understands. One of the languages is, I think, Korean – the book certainly comes from Korea. The other language is written in Cyrillic script which looks like Russian, but having struggled with it with the rusty remains of my Russian, I gave up, and decided it must be Mongolian.
The book is entitled in English, Hunnu Tombs at Hudgiin Tolgoi in Mongolia, being the report on a Korean-Mongolian joint expedition to Mongolia. I eventually tracked down an abstract in English which tells me that the site lies 450kms west of Ulan Bator and is 1600m above sea level. Four tombs were excavated with radiocarbon dates between AD 80 and 400 BC, and the largest contained a European adult male (the Huns really were European!) but the others contained Mongoloid skeletons, mostly of juveniles and children. The book contains some splendid photographs. Anyone for Outer Mongolia?
---
This article is an extract from the full article published in World Archaeology Issue 11. Click here to subscribe
Enjoyed this article? Click here to read more by subscribing to CWA magazine.