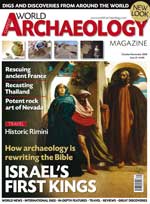 This issue marks our fifth anniversary and in celebration, we have given the magazine a splendid new look.
As ever, we offer the latest on digs and discoveries from around the world, such as our cover feature on how archaeology is rewriting the Bible. According to the Old Testament, David and Solomon were the important kings of Israel. However, Jonathan Tubb, of the British Museum, draws together a wide range of evidence to reveal why this position should be taken by Omri and his son, the 'evil' Ahab. Moreover, he explains why this relatively forgotten duo should be seen as the very first kings of Israel.
FEATURES
Bible Lands   Israel's First Kings: How archaeology is rewriting the Bible
Our cover story reveals why, contrary to Old Testament teachings, the 'evil' Ahab and his father Omri should be regarded as the first kings of Israel.
France   Towers and tombs: Neolithic life and Roman death
How rescue archaeology is revolutionising our knowledge of the past.
Thailand   Recasting Thailand: New discoveries at Ban Non Wat
Prof. Charles Higham reports on the latest discoveries from Ban Non Wat, one of the world's richest archaeological digs.
America   Nevadan Rock Art: Petroglyphs, petroforms and pictographs
Paul Bahn reflects on the potency of Nevadan rock art.
World   Celebrating world archaeology: CWA is five
It is the magazine's fifth anniversary, so, in celebration, we look back at some of our most memorable reports from across the world
REGULARS
TRAVEL: Italy special
RIMINI REVEALED: Nadia Durrani reports on the site of the newly-opened Surgeon's House in Rimini, North East Italy.
On site insights: Romanist Neil Faulkner takes us on a tour of the Roman port of Ostia.
World Listings: Archaeology listings from around the world.
REVIEWS
Exhibitions Who was Hadrian? The British Museum's latest block-buster considers the life of the enigmatic emperor.
Books The Temple Architecture of India; The Empire and the Kingdom – Jordan as seen by the École biblique et archéologique française de Jerusalem (1893-1935).
GREAT DISCOVERIES
Great finds that changed the world
Snapshot of the Dead Sea Scrolls and their relevance to world history.
READERS WRITE
Long live the Blue Guides; Post-fascist Rome?; More from Rome; Revisiting frankincense and myrrh; In defence of Chaplan's chalking.
WORLD NEWS
Latest world archaeological news, including a report on the sites just given UNESCO World Heritage Site status.
DIGGNG DEEPER
News extra from Brian Fagan.