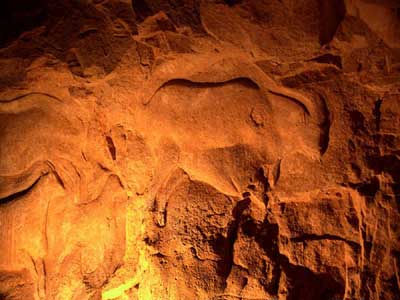 A new museum has opened at Angles-sur-l'Anglin, in Vienne, western France, dedicated to recreating the spectacular cave art of the Roc-aux-Sorciers (Sorcerers' Cave), dubbed the Lascaux of sculpture because of the quality of its Upper Palaeolithic limestone reliefs. The Centre d'interprétation de la frise magdalénienne du Roc-aux-Sorciers (www.roc-aux-sorciers.com) features a full-sized replica, produced from laser scans, of the richly carved walls and ceiling of the rock shelter, where 15,000 year old figures of bison, goats, horses, cats and female nudes form a 60 foot long frieze. A half-hour son-et-lumière display will recreate the animated appearance of the sculptures as if viewed by the flickering flame of the original cave dwellers.
Roc-aux-Sorciers has never been open to the public. First excavated in 1927, and identified as a Palaeolithic site, the carvings were not found until Suzanne de Saint-Mathurin and Dorothy Garrod carried out fieldwork in 1950. •
---
This article is an extract from the full article published in World Archaeology Issue 29. Click here to subscribe
Enjoyed this article? Click here to read more by subscribing to CWA magazine.