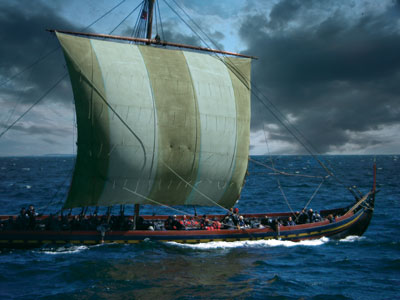 The cause of the sudden collapse in AD 1350 of the Viking settlement established in Western Greenland by Eric the Red in AD 985 has long been debated. Studying marine sediments in the same area of Greenland to reconstruct climate change over the last 1,500 years, Dr Sofia Ribeiro from the University of Copenhagen now believes she has the answer. 'Our study,' she says, 'indicates that at the time the Norse arrived in West Greenland, climate conditions were relatively mild and were favourable to the settlers.' But their descendants failed to adapt to declining temperatures and a rise in sea-ice, leading to the collapse of the centuries-old colony.
'Our study shows a major shift towards cooler conditions and extensive sea-ice, which coincides with the estimated time for the collapse of the Western
Settlement in AD 1350,' said Dr Ribeiro. 'We cannot attribute the end of the Norse civilisation to a single factor, but there is enough evidence to suggest that these temperature shifts would have caused significant problems for the colonists and their livestock. Harsh climate conditions made farming and cattle production increasingly difficult and the extensive sea-ice prevented navigation and trading with Europe.'
---
This article is an extract from the full article published in World Archaeology Issue 49. Click here to subscribe
Enjoyed this article? Click here to read more by subscribing to CWA magazine.