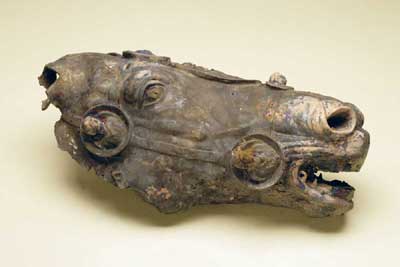 Parts of a gold-plated bronze horse from an equestrian statue have been found during excavations at Waldgirmes, in central Germany, including the head of the horse, the boot of the rider, and parts of the horse's legs and harness.
Not only is the statue itself of outstanding quality – described by Hesse state archaeologist Egon Schallmeyer as 'one of the best (pieces) created at that time' – it is also evidence of Rome's ambitions to create a series of new towns in German territory, plans that were abandoned after the battle of the Teutoburg Forest of 9 AD.
---
This article is an extract from the full article published in World Archaeology Issue 38. Click here to subscribe
Enjoyed this article? Click here to read more by subscribing to CWA magazine.