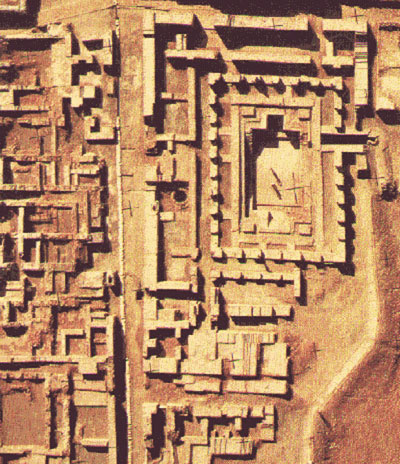 Mohenjo-daro discovered
Mohenjo-daro was once a major city, occupied by people belonging to the first civilization in the Indian subcontinent. It was initially sighted by D R Handarkar in 1911-1912, who mistook its baked mud bricks as being only 200 years old. In 1922, R D Banerji, one of the Superintendent Archaeologists of the Archaeological Survey of India, decided to excavate the Buddhist stupa that dominated the site. Beneath it, he identified the remains of a Bronze Age city. Major excavations then continued until 1931 under the leadership of John Marshall, Director General of the ASI. This was then followed by those undertaken by Mortimer Wheeler in 1950, and George Dales in 1964-1965. Large-scale investigations since Marshall's time, however, did not resume until 1979, when Michael Jansen excavated and conserved some of the site. The main conclusion of the interwar excavations still stands: Mohenjo-daro, along with the other major city of Harappa and a host of other sites in Pakistan and northern India, represent an entire Early Bronze Age civilization on a par with those of contemporary Egypt and Mesopotamia.
---
This article is an extract from the full article published in World Archaeology Issue 39. Click here to subscribe
Enjoyed this article? Click here to read more by subscribing to CWA magazine.